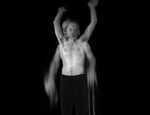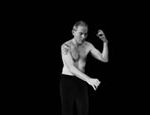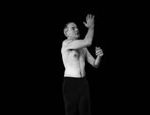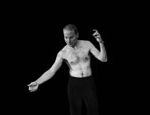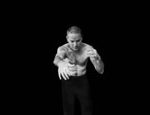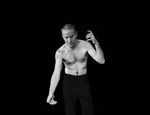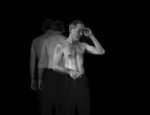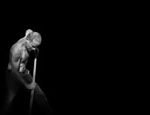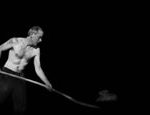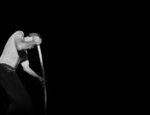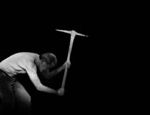 Peter Herbert
Born Leap Day of 1960 in Bludenz, Austria
Bassist Peter Herbert has been living in Paris since 2003 and in Vienna since 2007 (in New York from 1989-2003) and leads a busy schedule with an average of 100 concerts annually performing throughout the world.
Trained as a classical pianist/bassist, after years of successful 'main stream' jazz activities, he is now developing his own voice in the field of improvised music. Recent activities include solo concerts, in 2002 in New York (Glassfarm), London (The Vortex), Moscow (The Dome), Vienna (Porgy&Bess), a.m.o. (CD: 'Naked Bass' ) and a focus on small ensembles like his duos with David Tronzo (CD: Segmente, AZM 1001), Carol Robinson (bass-clarinette/electronics) or his Parisian Trio with Jean-Charles Richard (sax) and Christophe Marguet(dr), He is also involved in arabic music with artists like oud-master Marcel Khalife or Simon Shaheen.
Herbert is also a prolific and versatile composer, mostly commissioned by European orchestras and ensembles. He has written for orchestras, choirs and chamber groups, designed experimental movie soundtracks and incidental music for European avant-garde theatre groups (Cd:Aktionstheater Ensemble 2000 music for theater, AZM 102).
As a Jazz musician, he has worked with many artists and groups such as the John Abercrombie/Marc Copland Quartet, Bobby Previte's "The Horse", John Clark Octet, Art Farmer and Woody Shaw. His work has been well documented on over 170 recordings (please see COMPLETE DISCOGRAPHY).
Herbert was recently awarded the Hans Koller-prize as 'musician of the year' This prize is given to a jury chosen person, who had 'significant impact on the Austrian music scene for a long time'. He also established his own internet-based label Aziza Music in 1999.
Herbert is teaching a small bassclass at the Anton-Bruckner Privat University in Linz/Austria since 2007.
Education
1987-1989: Berklee College of Music, Boston; Bachelor of Music in Bass performance summa cum laude
1981-1986: College for Music, Graz, Austria; diploma in Bass performance with distinction
1976-1979: Conservatory for Music, Bregenz, Austria
Performances – Jazz and Jazz-related Music
Concerts/performances/recordings in Europe, Japan, North Africa, the Middle East and the US with Marcel Khalife (2000-present), Chris Culpo Trio (2003 – present), Eric Watson Trio (2005 – present), Joachim Kühn (2005 – present) , Marc Copland/John Abercrombie Quartet with Billy Hart (97-99), Bobby Previte's "The Horse" (95-98), the Vienna Art Orchestra (92), the Aydin Esen Group (89-96), the Wolfgang Muthspiel Trio (86-89),the Christian Muthspiel Trio ('94), the Art Farmer Quintet (in NYC 91/92), Art Blakeys Jazzmessengers ('86), the Tone Jansa Quintett featuring Woody Shaw (85/86), Paul Smoker/Phil Haynes "Double Trio" (91) and performances with musicians like Sheila Jordan, George Garzone, Alex Deutsch, Mick Goodrick, Lewis Nash, Joe Calderazzo, Gene Calderazzo, Mordy Ferber, Wolfgang Muthspiel, Ben Monder, Tom Rainey, Joe Diorio, Tony Trishka, Tom McKinley, Jeff Williams, Bob Moses, Fred Hersch, Jerry Bergonzi, Kenny Werner, Richie Beirach, John Clark, Robin Eubanks, Richie Cole, Peter Erskine, Gene Jackson, Marc Copland, John Abercrombie, Billy Hart, Christine Tobin, Phil Robson, Kenny Wheeler, Steve Rudolph, Daniel Humair, Steve Shehan, Jamey Haddad, Skuli Sverrisson, Theo Bleckmann, Paul Simon, Franz Koglmann, Andy Manndorff, Wolfgang Reisinger, Hannes Löschel, Simon Shaheen, Marcle Khalife, Paul Skrepek, Klaus Dickbauer, Steve Lacy, Christoph Kurzmann, Philip Jeck, Johannes Barthelmes, Sunny Simmons, 'Little' Jimmy Scott, Kenny Drew jr., David Taylor, Daniel Schnyder, Wolfgang Mitterer, Lucas Niggli, Claudio Puntin, Samuel Rohrer, Mino Cinelu, Joe Chambers, Ed Neumeister, Karl Ratzer, Howard Curtis, Rudy Royston, Sorey Tyshawn, Vladimir Tarasov and many others.
people, Peter Herbert had the honor of working with or having met and are no longer among us:
Art Farmer, Clifford Jordan, Kenny Drew, Art Blakey, Woody Shaw, Thomas Chapin, Danilo Terenzi, Bob Berg, Baly Othmani, Bumi Fian, Bill Black, David Baker (the engineer), Michael Brecker, Alexandra Montano, Mahmoud Darwich, Mary Gardener, Aldo Kreml, Ed Renshaw, Fritz Pauer, Ahmad Mansour, "Little" Jimmy Scott, Kenny Wheeler, Keith Copland, Clark Terry, Robert 'Pizi' Polak, Heinrich Schiff, John Abercrombie, Andy Manndorf, Kevin Mahogany, Ekkehard Muther, Thomasz Stanko, Erich Kleinschuster, Zipflo Weinrich, Uli Scherer, Bosko Petrovic, Uwe Werner, Hans-Georg Schmeiser, Karl-Heinz Miklin, Andy Scherer, Herbert Joos, Vic Juris, Wallace Rooney, Bob Gullotti, Henry Grimes, George Crumb, Uli Rennert, Ismael Ivo, Heimo Puschnigg, Thomas Stempkowski, Gerhard Crepaz, Herbert Uhlir, Bassam Saba, Sonny Simmons, Harold Winkel, Toni Stricker, Rubina Möhring, Paul Hille, Hermann Nitsch, Willi Resetarits, Adelhard Roidinger, Wolfgang Reisinger, Heimo Steps, Wolfgang Fetz, Mick Goodrick, Tony Coe, Renald Deppe, Werner Korn,
Performance – Contemporary Music
Featured soloist on recording of Henry Wolkin composition for Trio and The London Symphony Orchestra (June 1996);
Tom McKinley's Golden Petals double concerto for bass and soprano saxophone featuring Richard Nunemaker and members of the Houston Symphony;
Janice Misurell Mitchell's Alone Together duet for bass and bass clarinet featuring Richard Nunemaker (both in Houston, Texas and at Carnegie Hall, New York — CD Golden Petals, Richard Nunemaker, MMC Records).
Featured soloist with the Camerata Bregenz Tour in Austria (March 1994) with 4 contemporary bass concertos/pieces.
Featured soloist in original works such as 100 Y's (string quartet plus ADAT tape) and difficulties (piece for three choirs and bass solo) and Communications Error for Nonet (CD ensemble plus, ORF Austria) and Musique humaine with the Koehne string quartet.
Composer: (excerpt)
timepiece for piano, violin, cello, bass and drums, commissioned and performed by the New Art Ensmble (Fuat Kent)
timeless cello-concerto for chamber orchestra and cello solo
walking (while singing in my head) for chamber orchestra
A,B,C,....for chamber group and one improvising soloist
You're my thrill' 5 songs made famous by Billy Holiday, commissioned and performed by the ensemble plus, feat. Christine Tobin (voc)
dialogs for strings, woodwinds, 3 sopranos, 3 recorders, 3 percussionist, piano, commissioned and performed by the Musikschule Bregenz
Communications Error for Nonet and Tape, commissioned and performed by the 'Ensemble Plus' (CD ensemble plus, ORF Austria)
fragments of a cityII for large orchestra and tape, premiered at the 'Bregenzer Festspiele' 1999, commissioned and performed by the Symphonieorchester Vorarlberg
Climbing bass concerto for bass solo and string orchestra, commissioned and performed by Francisco Obieta and the Kammermusikensemble 'Arpeggione'
theatre sound track Sagrado y obscena, Theaterfestival LaVoz, Santa Fe, New Mexico, 1998, Autor: Ramon Chalbaud, Regie: Valli Rivera
movie soundtrack Was das Zeug haelt a documentary on visual artist Tone Fink, by Robert Polak 70 min. 1998
movie soundtrack for Michael Köhlmeier's Klassische Sagen des Altertums TV 6-part TV series 12 min each 1998
fragments of a city for 2 basses and alto-sax and NY street noise tape, premiere performance: ISB World Congress Houston Texas 1997 11 min
muhler for soprano, 2 mezzi and bass, commissioned and performed by "Cascabel" premiere performance: Mai 1997 New York City, 8 min
movie soundtrack for Gerhard Koenig's Dokumentation einer Unzweckmaessigket (numerous awards, among them the 'Silberne Enzian" Filmfestival Trento '98)
short stories for woodwind quintet: premiere: 6.10.96 commissioned and performed by the 'quintett.wien'
and many more: Please see Compositions for a complete listing.
Numerous theater soundtracks for the Aktionstheater Ensemble under the direction of Martin Gruber. Productions:
Nathan der Weise 1992,
King Oedipus 1993,
Leonce & Lena 1994,
Das Mädchen des Poeten 1995 (Volkstheater Wien),
Woyzeck 1995,
Danton's Tod spielen 1996,
Lorenzaccio. Un Medici 1997,
Kain Lord Byron for the Bregenzer Festspiele 1997,
Penthesilea 1998
Totentanz.Martyrium by Strindberg 1999
Bei den Fischer's 2000 (Stephan Eibl-Erzberg),
Ich Kanzler, ein Märchen August 2000.
Der Sturm Shakespeare 2001
Broker's Opera 2002
CD: Peter Herbert – Aktionstheater Ensemble 2000 music for theater, AZM 102
Teacher
From 2004 – 2008 Peter Herbert was the artisitic director of JIMS in Salzburg Austria, where he has been teaching every summer since 1998. Also teacher at numerous workshops in Groznyan/Slovenia, the conservatories of Innsbruck, Linz, Vienna and Feldkirch/Austria, and the summer workshop in Neuberg/Austria (1991/1995), as well as Fachhochschule Dornbirn (2000/02), Viktring/A (1995/1996/2002/2003/2004/2005/2006) and St. Georgen a.Walde/A (1995/1996/1997), 'outreach'-Schwaz (2001/2002/2006), Zeillern (2006/2007/2009/2010) and Happeranda/ Sweden (1995) with Mick Goodrick, and at Cornish College/Seattle with Marc Copland, Billy Hart and John Abercrombie (1997), the National Conservatory of Music/Bir-Zeit University East-Jerusalem/Ramallah/Bethlehem (2002). Since 2007 Peter Herbert is teaching a small class of contrabassists at the Anton-Bruckner Privatuniversität in Linz/Austria.
A Movie about Peter Herbert
"Peter Herbert-a portrait in music", a 20 min road movie by photographer Gerhard Klocker, continous soundtrack with music by Peter Herbert. Shot in New York City and New Mexico 1999, cars in use: Cadillac 1976 (NY), Toyota pickup truck (NM). Available formats: 16 mm, Beta, VHS.
"Peter Herbert – a portrait in motion', a 12min docu by photographer Gerhard Klocker, shot in a YAK 52, a russian fighterplane from WWII.
Peter Herbert uses an Austrian Audio OC18 Microphone, and he plays Thomastik Belcanto strings.