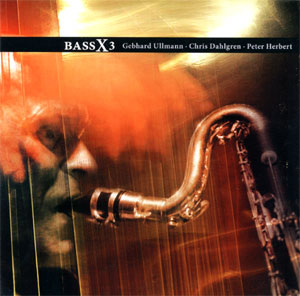 Improvised music for bass clarinette and two basses.
BassX3 is a powerful intense exploration of the lower end of the sonic range. Celebrating his 20th year of performing as a leader, 2005 finds multi-instrumentalist Gebhard Ullmann still exploring new and wondrous compositional concepts. Performing here with two long-time associates, New York jazz veteran Chris Dahlgren, previously of the Jazz Mandolin Project, and Austrian Peter Herbert, internationally recognized for his film and dance scores, Gebhard again demonstrates why no less a luminary than Paul Bley once remarked, "Gebhard Ullmann is one of the finest improvising artists in the world today.
The music on BassX3 is gentle and hypnotic. Owing much to his overall approach to life, the music reflects the intensity, passion, and dedication to purpose that have been the cornerstones of Gebhard's 20-year career on both sides of the Atlantic. Gebhard has found that rare center sweet spot that effortlessly blends the best of several music traditions. The result is a music that wanders between a land of lush valleys, arid deserts and weathered mountain peaks; an organic blending of harmonic metaphors, both real and otherworldly, that softly captivates and transports. There are few reference points here other than the moment deep within.
release date: 2004
DR 04-347-07
Label: www.drimala.com