cd – LOVE & BANANAS ARE HERE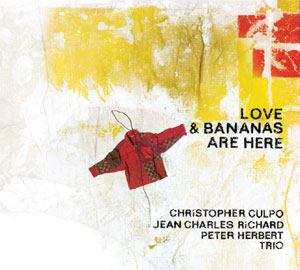 Track
1
Neige Graves 01:06 P. Herbert
2
Moons 07:55 Jean Charles Richard
3
Psalmba 08:16 C.Culpo
4
Kurz 06:06 P. Herbert
5
5 Paper Doves 05:02 C. Culpo
6
Enveiling And Unveiling 07:39 C. Culpo
7
Florès 05:39 J.C. Richard
8
Love & Bananas Are Here 05:42
C. Culpo
9
Canto Atmosferico 04:11 C. Culpo
10
Culpobility 05:14 C. Culpo
11
Actus Tragicus 04:59 P. Herbert
Total 61:57
Christopher Culpo piano
Jean Charles Richard saxophone
Peter Herbert double bass
Jean Charles Richard plays Selmer saxophones
Peter Herbert uses an AKG C2000 microphone and Thomastik Spirocore strings
Many thanks to : Louis Morel l'Horset, Philippe Racine, Isabelle d'Arpiany and Hugo Guffanti of the
Maison de la Musique à Nanterre, Zoë Knights, Gwen Sampé and of course Ollie.
Recorded at Maison de la Musique Nanterre July 5 & 6, 2004 by Etienne Bultingaire.
Mixed by Etienne
Bultingaire, graphic design by Pete Jeffs, photography by Guy Tillim.
Label: www.cristalprod.com